Seefeel

are reissuing expanded versions of key records from the '90s. Succour and (Ch-Vox), the British post-rock band's second and third albums for

Warp

and

Rephlex

respectively, have both been expanded with an extra 12-inch of mostly unreleased material. An archival album, St / Fr / Sp, compiles two of the band's 1994 EPs for Warp—Starethrough and Fracture/Tied—together with a rare, separately released remix of "Spangle" by

Autechre

. The reissue project's final part is a quadruple-CD anthology, comprising the three aforementioned vinyl albums, plus bonus tracks and live versions. All the reissues have been remastered from the DAT tapes by Stefan Betke, AKA

Pole

, and will be available via Warp from May 14th. Another 12-inch containing live versions of "Spangle" and "Gatha" will be sold exclusively via Bleep. Seefeel signed to Warp in 1994 following the success of their debut album, Quique. They were the first guitar band on the label. The band, which has comprised different members over the years, went on hiatus in 1997, before releasing a self-titled album for Warp in 2010. Listen to Autechre's remix of "Spangle."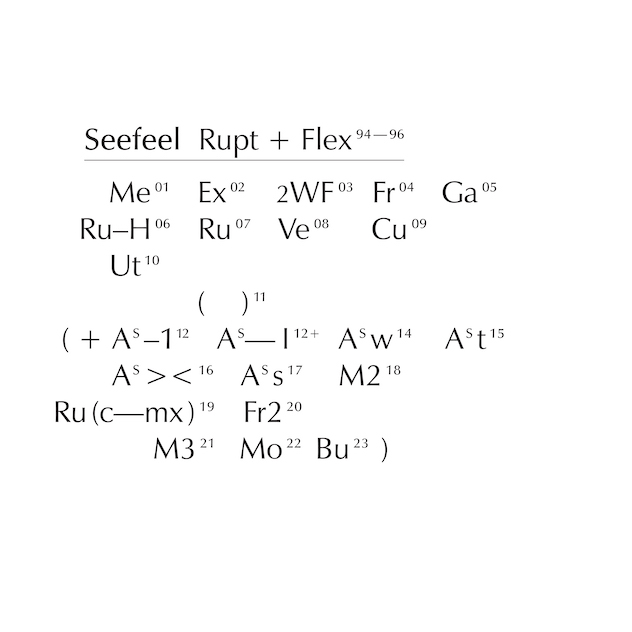 Tracklist Succour A1. Meol A2. Extract D1. Cut D2. Utreat D3. Tempean B1. When Face Was Face B2. Fracture B3. Gatha E1. As One E2. As If E3. As Well E4. As Track E5. As Link E6. As Such C1. Ruby-Ha C2. Rupt C3. Vex F1. Meol 2 F2. Rupt (Cut Mix) F3. Fractions 2 F4. Meol 3 F5. Monastic F6. Burned (Ch-Vox) A1. Utreat (Complete) A2. E-hix² A3. Ch-vox C1. E-hix 5 C2. E-hix 4 C3. Evio B1. Hive B2. Ashdecon B3. Net D1. Avatar D2. E-hix 3 D3. Ashime St / Fr / Sp A1. Starethrough A2. Air Eyes C1. Fracture (EP version) C2. Tied B1. Spangle B2. Lux1 D1. Spangle (Autechre Remix) D2. Starethrough (Transition Mix) Rupt & Flex (1994 - 96) Disc 1: Succour 01. Meol 02. Extract 03. When Face Was Face 04. Fracture 05. Gatha 06. Ruby-Ha 07. Rupt 08. Vex 09. Cut 10. Utreat 11. Tempean Disc 3: (Ch-Vox) Redux 01. Utreat (Complete) 02. E-hix² 03. Ch-vox 04. Hive 05. Ashdecon 06. Net 07. E-hix 5 08. E-hix 4 09. Evio 10. Avatar 11. E-hix 3 12. Ashime Disc 2: Succour+ 01. As One 02. As If 03. As Well 04. As Track 05. As Link 06. As Such 07. Meol 2 08. Rupt (Cut Mix) 09. Fractions 2 10. Meol 3 11. Monastic 12. Burned Disc 4: St / Fr / Sp 01. Starethrough 02. Air Eyes 03. Spangle 04. Lux1 05. Fracture (EP version) 06. Tied 07. Spangle (Autechre Remix) 08. Starethrough (Transition Mix) 09. Sp19 (Spangle Extended Live Version) 10. Ga19 (Gatha Extended Live Version) Warp will reissue 94 - 96 Reissues On Warp on May 14th, 2021.

Photo credit: Stefan de Batselier